IRIS-Q
Thermal Imaging
Fever Detection System
IRIS-Q
THERMAL IMAGING DEVICE

HIGH TEMPERATURE
THERMAL IMAGING PACKAGE
Available for US and International Delivery

Learn More Here
Non-Invasive, High Volume Temperature Screening
Fever Screening for Workplaces, Airports and High Traffic Areas
Scans and Gives Alerts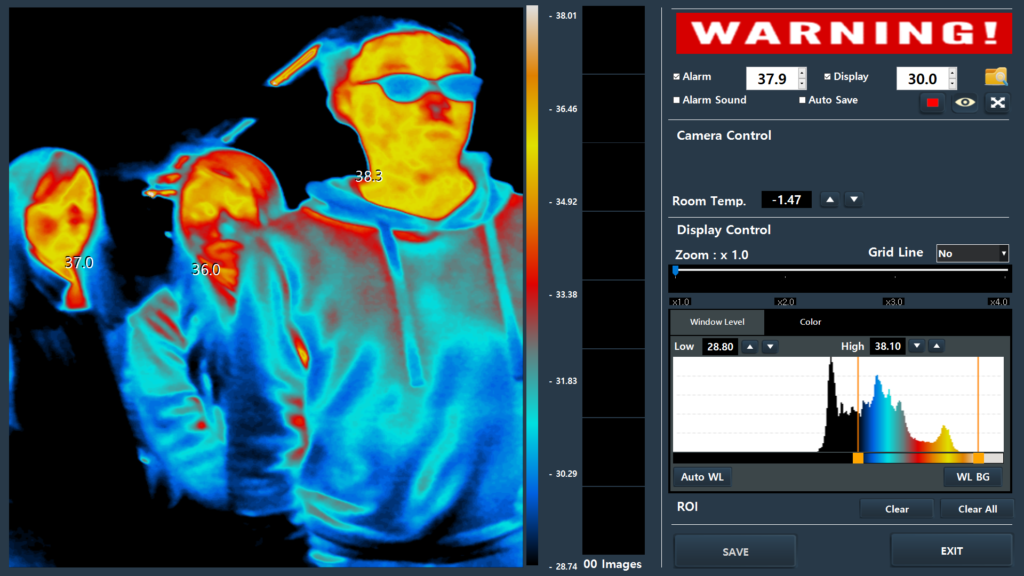 Next-generation technology to help 
put your staff and customers at ease.
A solution where you can screen people for higher temperatures with pinpoint accuracy.
Protect your workplace or public area.
How the System Works:
IRIS Q's high-accuracy camera measures skin surface temperature as individuals walk through your entrance. Its wide-angle lens works continually, in real time, 
as people pass by.
Temperatures above your predetermined threshold are immediately detected.
The system automatically saves the image of the individual with the high temperature and displays  an alert on the laptop (as well as an optional sound alert). This enables you to quickly detect people who are running a fever, even if they are not aware of it.
This non-invasive, non-contact method of screening large groups of people makes it easy to detect those with an elevated temperature, with minimal disruption.
In situations where social distancing is not possible, this device helps to protect your staff and the people they interface with.
Testimonials
We have been very impressed with our Iris-Q.
The tech support has been very helpful. After talking to tech support and adjusting our settings, we have been able to achieve very accurate and rapid scans of employees.
We were also impressed with the extra effort that was made to make the system complete and as plug and play as possible. The labeled USB
connections and dedicated laptop made it extremely easy to set up.
– A.W., PB Corp
– – – – – – – – – – – – – – – – – – – – – – –
I'd like to thank you and your team for your attention in helping us get the IR thermometers for our 50 Hudson yards project. Medicore did a tremendous job of not only getting us a demo to try out, but also your turn around time of delivery of the units. As you are aware, we did a trial run in the make shift kitchen, set up to feed the medical staff at the Javits Center's temporary hospital, and we were impressed with the ability of unit to scan multiple people at once. So much so that we are now employing the units on multiple projects across the country.
Being that the 50 Hudson Yards projects is an active construction site, we had to use a little ingenuity, with your help and knowledge. At the peak, before the secondary pause we experienced, we were able to scan 300 plus people through a single set of turnstiles. At the jobs peak we will be scanning upwards of a thousand people daily on site. The ease of use and your customer service sets you apart from the other manufacturers we had considered.
Once again, on behalf of the Related Companies I would like to thank you and your team for your efforts and the delivery of a quality product.
Kris Muscolino
Vice President, General Superintendent Related
– – – – – – – – – – – – – – – – – – – – – – –
The Iris-Q equipment has only been in service at our facility for close to a week. But it was easy to set up and is operating very well.
Debbie and her team were very responsive and professional. My only suggestion to her was to increase the length of the wire harness used to connect the camera to the laptop.  [Note: 16 foot connection cables were sent to him and are now standard.]
One of the key features, that some of the other equipment we looked at did not have, was the autosave. This allows a recorded record of the temperature and potential temperature incident.
 At this point I would recommend the Iris-Q to anyone that needs this type of equipment.  
KM, in charge of security at L'Oréal factory in New Jersey