Protect your Employees and Customers with this Very High Volume, Rapid Infrared Thermal Fever Screening System
Our system needs to have the person passing through the screen for just one second to scan them for high temperature.  You can easily screen 1-2 people per second, around 100 people screened per minute.
Get up to 500 people through the door in 5 minutes. 
Very High Speed Screening | People Do Not Need to Stop To Be Screened | Camera Made by South Korean Military Contractor | Self Calibrating – Always Accurate | On Power so Runs 24/7/365| Anonymous Mode Or Visual Mode |

With the world more or less on lockdown, we need to think about what steps and precautions should be taken as restrictions are lifted to keep employees and customers as safe as possible. Thermal scanning to detect even slight fevers should be a major part of your plan.
There are quite a few options on the market. Many are handheld or have a small screen attached to the camera. While these devices may be workable for a small business with a few employees, the Iris-Q is the real deal for serious screening and higher volume use.
The Iris-Q Thermal Imaging Camera connects to a computer that can be placed 15 feet away from the camera as it screens up to 100 people per minute.
You have a responsibility to protect your employees and customers and to help prevent the spread of illness and viral infections, and right now this is a very real problem.
THREE DIFFERENT VIEW MODES
AND CUSTOMIZABLE ALARM OPTIONS
The IRIS-Q is a Vital Part of the Solution!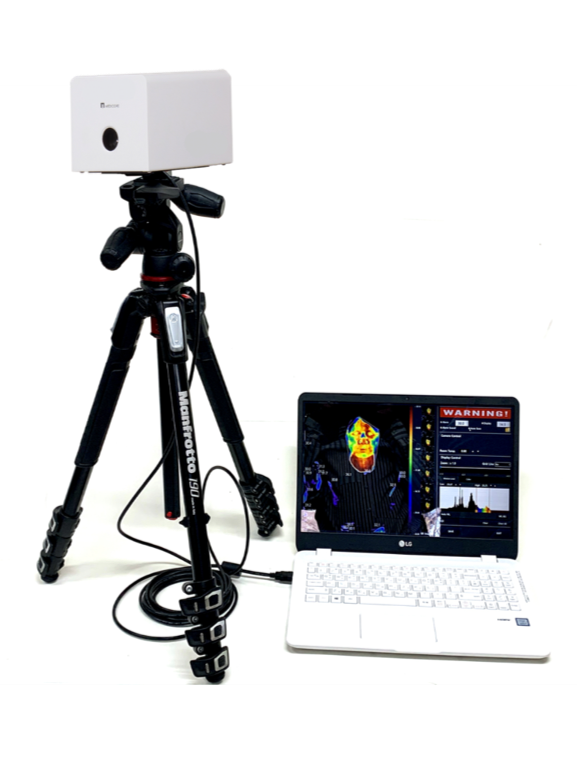 IRIS-Q Fever Screening System has been specifically designed for flu, virus and infection screening, used for large-scale temperature monitoring in crowded public places or high traffic areas, to detect any individuals with a fever immediately. 
Today, with precautions being so crucial, this system can literally save lives and prevent loss of revenue.
This non-invasive system can be set up at the entrance of a public venue or a workplace to screen those entering for fever. It will immediately display a warning, along with the captured image, of any individual with a temperature above your established threshold. Those at risk can verify their temperature with a medical thermometer and be directed to get appropriate medical attention or to isolate themselves.
As Shown On CNBC
(See 0:45 onwards)

24/7 OPERATION
No recharging ever needed.
WIDE AREA SCREENING
Spot individuals with fever in a crowd.
AUTO CAPTURE TARGET
Captures image of individuals over a set temperature.
CURRENTLY IN STOCK FOR FAST SHIPPING
Features
No battery recharging required: Everything plugs into power sources, so you never have to recharge batteries. Many of the thermal cameras for sale will only run about 10 hours and then batteries have to be recharged.
Auto-Calibration: The Iris-Q has an automatic internal calibration function which is calibrated every 5 minutes. You can hear the slight sound of the shutter when the calibration is done automatically. This automatic calibration is constantly done to adjust for the ambient circumstance and temperature. Air circulation, air conditioning or heating systems inside in the room can cause shifts in temperatures. Most other thermal cameras require recalibration at least once per year and that usually entails sending it in to the manufacturer at your own cost.
High efficiency: Handheld devices or one-by-one screening can put personnel at risk, as well as being slow and cumbersome. With the Iris-Q Thermal Scanning device you will save time and eliminate concerns. Even if the Iris-Q is left unmanned for periods of time, it keeps working and alerting and saving images of any detected high temperatures.
Fast and accurate measurement: The thermal scanner produces immediate computer readings with high accuracy to within 0.5 degrees and a built-in algorithm ensures a low false-positive rate. You can safely scan about 3 people across and there is no need to stop at the camera. People can just walk through at a slower pace (not rush past), so you can easily screen over 120+ people per minute.
Alarm and tracking: When fever is detected, the laptop screen displays a clear warning alarm, both visual and auditory (optional), and the system automatically saves the image of the individual.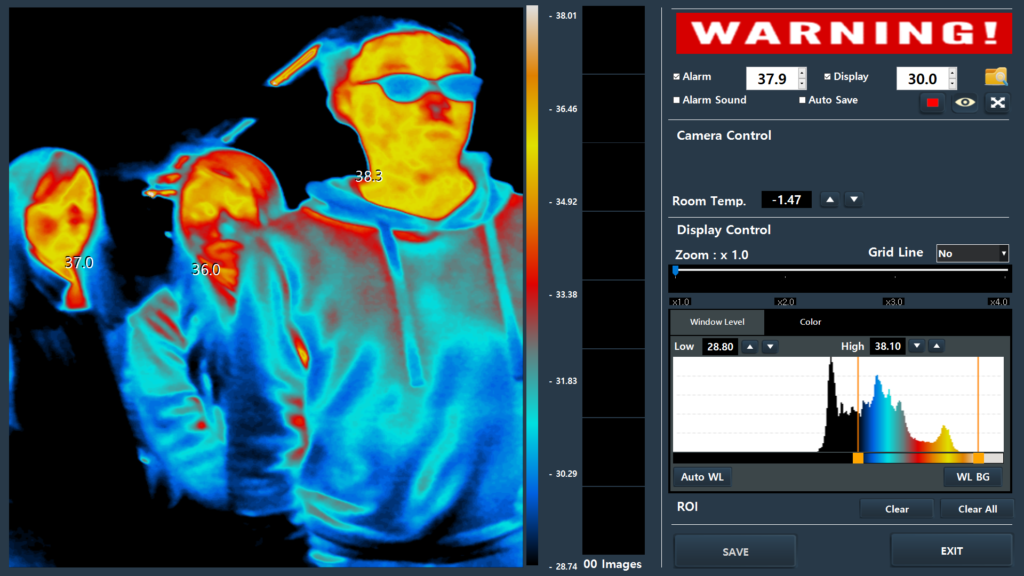 Why Choose the Iris-Q Thermal Scanning System
The Iris-Q Camera is military grade equipment, unlike other less expensive Chinese versions 
Provides Fast & Accurate Temperature Measurement
Self Calibrating System, so it doesn't have to be sent back for calibration as many other thermal cameras require
Designed for high traffic volume areas and crowds
Non-invasive and discreet
Automatic and Immediate Warning Notifications with images saved
Dual Camera (Infrared Thermal Camera + Digital Camera all in one unit)
Low False Positive Warning Rate based on AI algorithm
How the Thermal Scanning System Works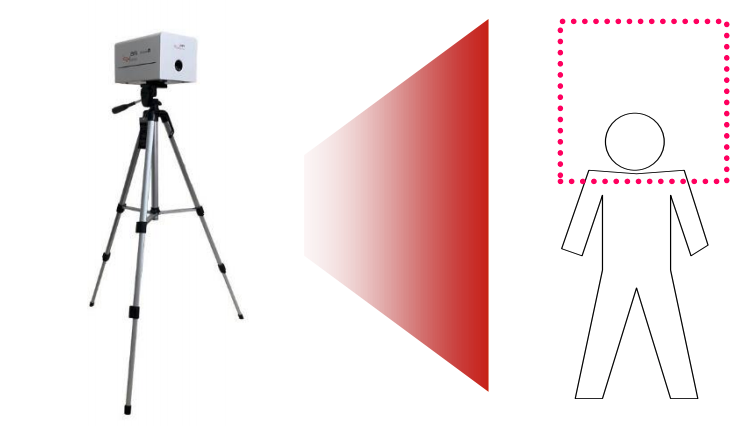 IRIS-Q's high-accuracy thermal scanning camera measures skin surface temperatures as individuals walk through your facility's entrance. Its wide-angle lens works continually, in real time, as people pass by.
The Iris-Q camera connects to a laptop (connecting cables can be as long as 30 feet), allowing those monitoring the thermal imaging to stay at a safe and comfortable distance from those being screened. Most thermal cameras on the market have the viewing screen attached to the camera itself, which is not nearly as safe or convenient.
Temperatures above your predetermined threshold are immediately detected and an alarm sounds on the computer (sound optional), along with a bright red warning sign.
The system automatically saves the images of any individual detected with a temperature above the set threshold (both thermal and digital camera images, along with date and time). This enables you to easily locate and further screen that person without causing any alarm or concern.
This non-invasive, non-contact method of screening large groups of people makes it easy to detect those with an elevated temperature, with minimal disruption.
The dual thermal and digital camera comes with a sturdy tripod or it can be mounted.
Both camera and laptop plug into power sources, so no recharging of batteries. It can work 24 hours around the clock, with no maintenance or battery recharging required. Many thermal cameras on the market require daily battery recharging.
What the Iris-Q comes with:
This Iris-Q Thermal Scanning device comes complete with:
The IRIS Q Camera Assembly with both Thermal and Visual Digital Cameras (2 cameras in one unit). This has a 2 year factory warranty.
Cable Bundle with all connecting cords in 9 foot or 15 foot length.
Laptop with Iris-Q software pre-installed.
User-friendly Quick Start Guide and Owners Manual.
Tripod for Mounting the Camera
USB Hub for connecting the Camera to the Laptop
Excellent customer service and tech support.
The IRIS-Q arrives ready to use and fully complete. There are no on-going costs or fees.
Training: Once the machine arrives with you, you will access to our training videos. The machine is very simple to use. We also offer a phone/remote access session to help you set your system up and answer questions. An easy-to-understand Quick Start booklet is also sent with the device.
Terms and Conditions: All sales are subject to the terms and condition found at here- Terms and Conditions
From Our Clients
We have been very impressed with our Iris-Q. The tech support has been very helpful. After talking to tech support and adjusting our settings, we have been able to achieve very accurate and rapid scans of employees. We were also impressed with the extra effort that was made to make the system complete and as plug and play as possible. The labeled USB connections and dedicated laptop made it extremely easy to set-up.
Thanks, AW – PB Corp
. . . . . . . . .
L'Oréal

The Iris-Q equipment has only been in service at our facility for close to a week. But it was easy to set up and is operating very well. Debbie and her team were very responsive and professional… One of the key features, that some of the other equipment we looked at did not have, was the autosave. This allows a recorded record of the temperature and potential temperature incident. At this point I would recommend the Iris-Q to anyone that needs this type of equipment.

– KM, in charge of Security at L'Oréal factory in New Jersey
Delivery Times
As of 1 July May 2020 we have IRIS Q in stock ready to ship. Please contact us for exact volume available. Due to high demand, if not in stock, we will ship within 10 t0 14 days of your order being placed. We keep this notice updated, so delivery time is normally accurate. Shipping is from Austin Texas and all shipments are sent Fedex Priority or Fedex International Priority.
About Medicore Medical:

Medicore Medical is a global distributor of unique medical equipment, designed to address widespread problems with preventative and diagnostic solutions.
We provide an array of solutions for the medical field including infrared thermography imaging systems, cardiovascular disease screening, autonomic nervous system (ANS) testing devices and more.
You can read more about our company at About Us
Contact Us For More Information
We have people standing by…
Trained personnel are on standby to provide complete information about the Iris-Q Thermal Scanning device, including fees, lead times, special offers and specifications. We are happy to answer any questions you have and help you to understand if the Iris-Q is right for you.
There is no obligation and no pressure to purchase. Just helpful people who can give you straight information and answer any questions you have.
Please Call During Business Hours 9am-5pm CST.
Important Notice: Human skin temperature is affected by a wide number of environmental and physiological factors. An elevated facial skin temperature may signify a raised body core temperature; correspondingly, an elevated core temperature may not be accompanied by a raised facial skin temperature. The IRIS-Q system must be operated strictly in accordance with the manufacturer's Operation Manual. The operator must set the temperature alert level. The IRIS-Q system is not intended nor designed to diagnose or detect medical conditions including, but not limited to, viruses or other illnesses. The IRIS-Q thermal imaging system should only be used to detect variations in surface temperature. In the event that an elevated skin temperature is detected, the subject should be advised to check temperature with an approved medical thermometer and the finding confirmed. Absence of an elevated skin temperature does not exclude a fever. Also please note that the World Health Organization states the most common symptoms of Covid-19 are fever, tiredness, and dry cough but also states that some people become infected but don't develop any symptoms and don't feel unwell. Asymptomatic individuals cannot be detected by checking body temperature.