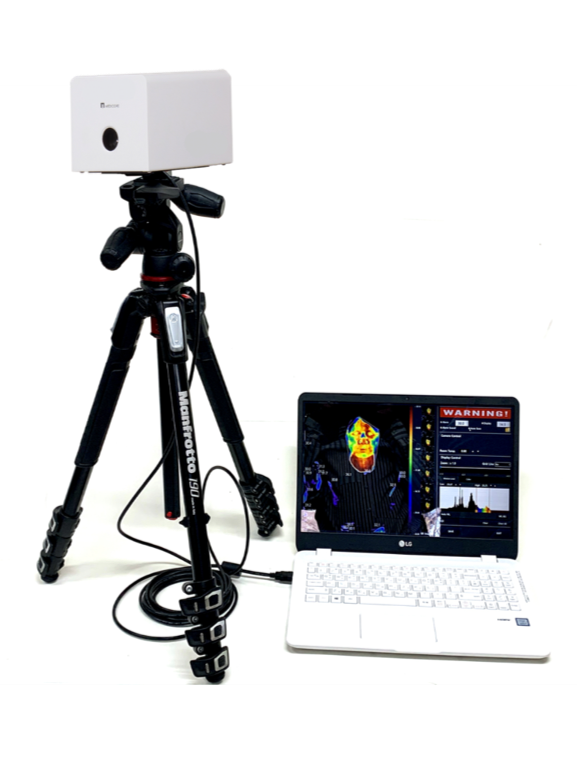 Who manufactures the device or where does it come from?
The camera is made in South Korea by a designated military contractor and the software system comes from a South Korean medical equipment manufacturer.  Other components are sourced from the USA. Everything is assembled, tested, sanitized, packaged and shipped from our facility in Austin.
Can we provide the Iris-Q to other countries outside the U.S.?
Yes, we can ship anywhere. We can provide the Iris-Q with appropriate plugs for each area. If quantity being ordered is 5 or more, we can also translate the manuals into other languages.
Will we need to send the camera in for recalibration? And if so, how often?
You will not need to calibrate the camera or use a black body. The Iris-Q has an automatic calibration function which is calibrated every 5 minutes. You can hear the slight sound of the shutter when the calibration is done automatically. This automatic calibration is constantly done to adjust for the ambient circumstance and temperature. Air circulation, air conditioning or heating systems inside in the room can cause shifts in temperatures. Most other thermal cameras require recalibration at least once per year and that usually entails sending it in to the manufacturer at your own cost. You won't need to bother with that at all. It's one of the great features of the Iris-Q.
What Laptops come with the device?
The laptops provided all fit these specifications:
Acer Aspire with minimum specs of:
Windows 10 Pro
Intel® Core™ Quad-core i5 processor
15.6″ Full HD (1920 x 1080)
8 GB DDR4 SDRAM;
256 GB SSD
NVIDIA Discrete Graphics Card (Normally GForce Mx250).
All provided laptops have a Kensington lock port allowed the laptop to be tethered.
Lenovo E15 with fingerprint security and same minimum specs is available for $500 upcharge. On larger orders the customer can request a laptop and we will use that laptop. There may be an upcharge if the requested laptop is a significantly greater cost.
Who Can See The Information on the Laptop?
The IRIS-Q Thermal Scanner is sold as a stand-alone device and Medicore Medical does not have access to the laptop or customer information unless such access is specifically granted on a one-time basis for technical support. All laptops provided come with with Windows 10 Pro which the customer may encrypt. The IRIS Q software loaded on the laptop is stand-alone and does not connect to any outside server nor require any internet connection to operate.
When performing technical support, no customer information is taken or copied from the customer laptop.
What about Security and Storage of Information and Images?
The Iris-Q comes with a laptop that has windows 10 pro and all of the connectivity and security options associated with Windows, including full disc encryption if you activate it. No PPI is stored on the laptop or anywhere else as no names are associated with the images. All that is stored on the laptop are images of individuals that are registering a temp above your alarm level. Those images are stored until you delete them or the 512-gig drive is full. We estimate about 250,000 images can be stored before older images will have to start being deleted.
 How many people can be scanned at one time?
You can safely scan about 2-3 people across, as long as you can see a good part of their face. One person cannot completely block another. People do not need to stop at the camera, they can just walk through at a slower pace (not rush past), so you could easily screen over 60 to 80 people per minute.
How long has this item has been on the market?
Our company is the sole distributor in the U.S. for Medicore products, manufactured in South Korea. For many years (since 2014) our company, Long Life Cardio/Medicore Medical has been distributing largely cardiovascular testing devices into the U.S. market.
The IRIS-Q system has been in use for over 20 years, since 1999, and the system has been used for MERS, SARS, and Swine Flu. But as these earlier viral outbreaks were rapidly gotten under control, the IRIS-Q sat dormant until Covid 19 hit hard in South Korea in January of this year. As a result, hundreds of these devices (IRIS-Q) were sold into the South Korean market with great success, installed in hospitals, government buildings and schools.
In February 2020 it was decided to offer this technology in the US market and the device has been available since March 2020 for US distribution.
Is the Iris-Q FDA-Approved?
The Iris-Q would be inappropriate to submit to the FDA for approval as it is not a medical device. The Iris-Q is not used to diagnose or treat any form of medical condition. The Iris-Q is a screening device, to screen for high facial temperatures. Any temperatures above the established threshold will alert. Any alerts should be followed by further screening to take the person's internal body temperature with a medically approved thermometer and direct, when appropriate, to seek proper medical attention.
Can the camera be mounted and if so, any particular mounting height?
The device comes with a high-end camera stand. It can also be mounted. Best mounting height is about 5 1/2 feet high so as to capture the majority of the face relatively direct on and to be able to span and catch all faces as they walk past from very short to very tall people. There are 3 predrilled screw holes in the bottom of the camera assembly that can be used for a custom mounting.
What the Iris-Q comes with:
This Iris-Q Thermal Scanning device comes fully complete and ready to use with: a) dual camera (camera is 2 cameras in one unit – one thermal camera and one standard digital camera), b) camera stand (the camera can also be mounted), c) all connector cables, d) laptop loaded with Iris-Q software, and e) user-friendly manuals, quick-start guide and videos.
Does the Iris-Q require battery recharging?
Both camera and laptop plug into power sources, so no recharging of batteries. It can work 24 hours around the clock, with no maintenance or battery recharging required. Many thermal cameras on the market require battery recharging.
How does the camera connect to the laptop?
The Iris-Q camera connects to a laptop (connecting cables can be as long as 16 feet), allowing those monitoring the thermal imaging to stay at a safe and comfortable distance from those being screened. Most thermal cameras on the market have the viewing screen attached to the camera itself, which is not nearly as safe or convenient.
Are there ways to monitor the screenings remotely or get alerted by text or email?
In terms of monitoring the system remotely, this function is not built into our software, but it is built into Windows 10, if the computers are operating on the same Wifi network. Our Tech Support or your IT can create a connection between the Iris-Q laptop and another laptop that can view the screen.
As well, we have an app in final stages of development, which you can load onto your phone, that will allow those with the app (and the appropriate username and password) to access the information on your Iris-Q device, where you will be able to see who alerted as having a temperature. We expect to have this available in the next week or two, by the time you get your device.
Can the device be used outside or in hot or cold temperatures?
Facial temperatures are affected by ambient temperature and thus outdoor use in more extreme temperatures can generate incorrect readings.  This is because all thermal cameras are simply measuring the facial skin temperature and a very hot or very cold day can alter surface temps of people being scanned.
In an area where there is no climate control your accuracy may decrease.  When it's very hot and people are arriving already hot and sweaty, it becomes impossible to use any kind of thermal camera. Even something like running up stairs will push a normal person's temperature up and they may show like they have a slight fever.
In cool, moderate or mild weather, indoor or outdoor is not so important. But if you have some kind of serious cold front move in or a super windy day or into summer and you have a very hot day, or it rains, these factors may adversely affect temperature readings. A cold wind, or very hot weather will mean that workers arriving have had their faces chilled or warmed and it will decrease the accuracy of the equipment. Windy conditions are another factor for accuracy.
This is the case when using any form of IR Thermal scanner to detect facial temperature. Ambient air temperature will cool or warm the faces of people who are being tested. If the ambient air temp is somewhat neutral, this effect is minimized.
We would recommend creating a climate-controlled corridor or area to funnel people through when they arrive to work or enter the building as your best means of accurate readings. If inside is not possible, perhaps even a tent could be set up, but you would need some way to keep the temp inside at a moderate temperature. Fans should not be used.
Can we scan people in vehicles with the Iris-Q? It is possible, but there are factors that would need to be considered. The person would need to roll their window down, the thermal scanner does not work through glass. Environmental temperatures would be a factor (see above). The camera should be 5 feet away from the subject being scanned. High trucks might require the driver to lean out to be scanned.
Does the Iris-Q store video clips or images and what is its storage capacity?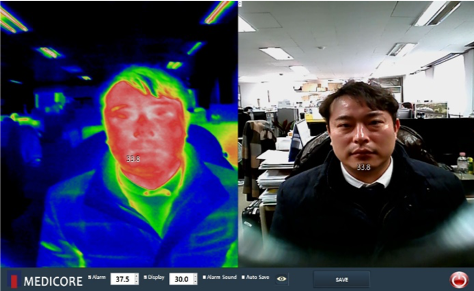 As to storage capacity of the images, the Iris-Q does not capture 20-second video clips, it captures an image at the exact moment of the alert. This makes it very quick to identify the person with the temperature. This image is stored in folders. The hard drive can hold approximately 40,000 images.
Can I get a replacement if the device fails and can't be handled through tech support?
Normally, if someone gets a device that for some reason has to be sent in for repairs, we would be able to send them a new or temporary device until theirs is repaired. However, with the high demand and our stock running behind our sales, we may not be able to send a replacement for the camera immediately. If we have the stock, we will. If we don't, then we would send them the next available camera that we get in.
It is very rare that something would be wrong with the camera itself. There is a lot of quality control on this. More likely, if there was an issue, it would be with the laptop or software and this we can deal with immediately. We can provide direct online support and actually log into their laptop (with their permission) and deal with most laptop or software issues this way. Or we can send a replacement laptop with software loaded immediately.
Will any additional software be required, such as Microsoft Office? no, nothing. Everything required is loaded.
Does the laptop need to be connected the Internet? no, it does not, but it can be.
Will there be any recurring software/support costs? No ongoing costs. If there is a software update at any time in the future, you will be informed and would not need to pay for this. Nothing is planned.
How do Thermal temperatures compare with oral temps?
VERY IMPORTANT:  Skin temperature is not the same as body temperature.
Thermal scanners are reading the temperature of the outermost surface of the body.
While normal body temperature is considered to be 98.6 or 37 C, some studies have shown that the "normal" body temperature can have a wide range, from 97°F to 99°F.
A temperature over 100.4°F (38°C) most often means you have a fever caused by an infection or illness. But normal internal body temperatures are not what you are considering when using a Thermal Scanner, you are looking for SKIN TEMPERATURES and these are different (lower). Normal human skin temperature varies between 91.2 and 97.8 °F. Therefore, we recommend an alarm setting of 98.5 °F, though the operator may set it slightly lower if desiring to be more cautious.
Testing Indoors is Recommended: Ambient temperatures can also affect the readings. If the space people are in is extremely cold or extremely hot, skin temperatures may be affected. Do not test right after someone just exercised. Strong moving air can cause some inaccuracy. If someone reads as having a skin temperature above your threshold, this should be followed by taking their actual body temperature with an approved medical thermometer to verify the results.
What's the difference between sensitivity and accuracy?
Accuracy is just how exact is the temperature readings, which is 0.3 to 0.5 C degrees.
Sensitivity is a measure of the camera's ability to capture light. Digital cameras convert the light that falls on the image sensor into electrical signals for processing. In this case the sensitivity is .01 NTTD (sensitivity measurement for cameras).
Do we need any special certification or medical license to purchase these units?
Nothing like this is needed. Anyone can purchase and use the device. There is another version of this device, called the Iris-XP, that is for medical use, to scan for tumors and other medical conditions. The Iris-Q, is for broad use to screen for temperatures in crowds or entranceways and there are no certifications needed or other requirements to have and operate one.
What warranty do these come with?
The Iris-Q camera has a 2 year factory warranty. If the camera needed physical repair, the device would need to be shipped to the manufacturer in South Korea and we would assist you with this. Anything else, including settings and various adjustments, software issues or any problems with the laptop, Medicore Medical can take care of here in Austin.
Contact Us For More Information
Please Call During Business Hours 9am-5pm CST.
Or fill out this form and we will contact you at a time of your convenience.
Important Notice: Human skin temperature is affected by a wide number of environmental and physiological factors. An elevated facial skin temperature may signify a raised body core temperature; correspondingly, an elevated core temperature may not be accompanied by a raised facial skin temperature. The IRIS-Q system must be operated strictly in accordance with the manufacturer's Operation Manual. The operator must set the temperature alert level. The IRIS-Q system is not intended nor designed to diagnose or detect medical conditions including, but not limited to, viruses or other illnesses. The IRIS-Q thermal imaging system should only be used to detect variations in surface temperature. In the event that an elevated skin temperature is detected, the subject should be advised to check temperature with an approved medical thermometer and the finding confirmed. Absence of an elevated skin temperature does not exclude a fever. Also please note that the World Health Organization states the most common symptoms of Covid-19 are fever, tiredness, and dry cough but also states that some people become infected but don't develop any symptoms and don't feel unwell. Asymptomatic individuals cannot be detected by checking body temperature.